Shutter 16 Magazine is:
The collaboration of many enthusiastic and dedicated music journalists with a passion for the lens or written word.
With a broad spectrum of talents and specialties, there are no limitations to the music Shutter 16 will cover. Our goal is to give back to the art that encompasses our life and to employ a professional and knowledgeable staff with a wide variety of tastes to ensure no genre is neglected- underground and mainstream alike.
From local dives to the photo pit at arenas, Shutter 16 journalists can be found anywhere there is live music. We love it all. From the nitty-gritty to the shiny and polished, we do not discriminate against any music scene and we embrace our love for anything with a beat through our regular and wide-spanning coverage. With the integration of social media and our trademarked Instagram hashtag, #twitfromthepit, Shutter 16 also strives to connect with our many fans and showcase their role in the experience. Without them, music would play to dead air and our words and photos would be meaningless- just like a life without music.
We want you to be a part of this- your photos, your questions, suggestions, and criticism- because we do this for you- the fans, the musicians, the record labels and the entire music scene. You all are our heart and soul and without you, we couldn't be doing this.
Meet the Crew:
Dianna Augustine – The leader of the pack, shutter16.fam, head photographer and brain schemer  has been a Charlotte based concert photographer since early 2002. Her passion for photography was cultivated by her grandfather, a very well known and decorated war photographer who put the first camera in her very small hands at the age of three. Originally, her eye was set on portraiture and architecture photos. That was until one very hot night she ran into a jazz club with one of her cameras on hand. The band did not object to her shooting and the next night after she processed the images and showed them; they bought them on the spot. This peeked an interest as she'd had so much fun just seeing the show, writing about it and getting the chance to wield her favorite piece of equipment that is, lets face it, her third hand/eye and second heart…and getting paid?!
Having toured for close to ten years with some of the biggest bands around on Ozzfest, Area 51 festival, NAMM etc recreationally as for many, it's all with the "who you know" on where you go. The next time she shot a show was a touring friend of a large band that she once toured with that contacted her and asked if she was attending the show. She basically said "Only if I can get into the photopit" as a joke. The joke came to life that night under starry blazing scorching lights and as she stood in front of nearly 15,000 people to shoot photos of a buddy from back in the day. She realized right then she was destined for this. Her pulse raced, the camera took on a life of it's own, the metal music blared and to this day she will tell you that defining moment of her musical journey is one that she tries to relive every time she hits that photopit. "Never more alive than with my camera, a excellent band, and amazing fans to set the mood." She has shot some of the biggest names in the business (Incubus, Metallica, In Flames, Sarah McLaughlan, Stone Temple Pilots, Ozzy, Jason Mraz, Cher, Iggy Pop, Slash, etc) but still has a heart and a glorified passion of supporting and loving her local music scene. "These people are the ones that while not many of them do but, some of them make it to super stardom. Had they not been supported in the beginning who knows what bands we might have never got the pleasure of knowing, seeing, listening to, memorizing lyrics, blasting in the car, singing to on those long nights with tears a flame or angry hair flipping." While never formally trained, her experience in the field and her unique eye makes her one of a kind and definitely a photographer you want in your pit, shooting your show and exposing your band to the world. Always for hire and always looking for the next best thing to shoot.
"I decided to bring shutter16 to life to give local and regional bands more of a voice. Want to show that Charlotte, NC is the next best big thing when it comes to music right behind all of the largest cities. It's happening right now and continues to grow. Lets do this people only we can be the voice of the city!"
Website: www.shutter16.com
Photography: : Concert, Portraiture, Events, Wedding
Shoots with: : Strictly Canon cameras
Favorite thing to shoot: : Metal and Punk shows but I'll do it all
View her Shutter 16 portfolio: http://shutter16.com/wp/tag/dianna-augustine/
Sheila Walsh
Editor in Chief & Social Media Manager
Sheila is the Editor-in-Chief and has been marked the resident emo kid within the S16 staff. With a B.A. in English, a ukulele named Sandy, and a love of vegan treats, there's no telling what this pink-haired fairy will be adding to her playlists.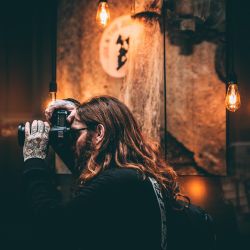 David Zeck
Photojournalist + PR Specialist
Staff:
Andy Frisk
Journalist, Columnist
Carolinas based writer/journalist Andy Frisk love music, and writing, and when he gets to intermingle the two he feels most alive. Covering concerts and albums by both local and national acts, Andy strives to make the world a better place and prove Gen X really can still save the world.
http://areasonablegoodear.blogspot.com/
Ash was born and raised in a small town in Pennsylvania and started working with the music industry at a young age. At the age of 17 she became a DJ at the local radio station. Then she attended Valley Forge Christian College from 2008-2012 and attained a B.A. in Digital Media Communications. There she started her podcast, Pop Deflators, which has evolved into a full-fledged music site including Artist Interviews and Concert Photography, she also currently works for Rock Rage Radio as an online DJ and photojournalist.
Formerly known as Ash Starkweather!

Bob Schultz
Photojournalist

Brandon Scott Hanks
Photojournalist
Brandon Hanks is a photojournalist hailing from Owensboro, Kentucky. Brandon started his obsession with photography dating back to 2001. Since getting his first taste of the music industry in 2016 with Nothing More, he has since worked with some of his favorites to some of the biggest names in music: Black Stone Cherry, Highly Suspect, Bush, Skillet, Green Day, and Scott Stapp. "If you were to tell me I'd be doing this (concert photography) with the artists I've worked with in my first year, I'd call you a liar," said Hanks. Brandon's fire and willingness to adapt to any setting and environment while being able to take on any challenge thrown at him makes him a force and a future in this industry looks brighter with every show. "Grateful, Humbled, Unbelievable, Rise Up." All words Brandon lives by.
Brooke Billick is based in Milwaukee.  By day, he is a mutual fund securities lawyer dealing with scads and scads of arcane laws, regulations and requirements designed to ensure that client assets are handled and invested appropriately.  He is almost always willing to help cure someone's insomnia through careful and lengthy recitations of the intricacies of modern portfolio theory, dollar-cost averaging, supply side economics, the Oxford comma, and similar topics.
By night, he happily haunts crowded bars, taverns and music venues featuring live music while pursuing that perfect artist profile or facial expression.  Over the past 40 years, Brooke has been actively photographing everything from scenic landscapes and portraits (including his sons, who typically respond to a camera with their middle finger).  He has covered singer-songwriters, bands, and music festivals for several years, and feels energized by the passion and talent of the performing artist.
Facing the prospect of retirement from full-time employment head on, Brooke looks forward to expanding his photographic opportunities and takes to heart Tom Petty's advice – "if you don't run, you rust."
Brooke's website is perpetually 'under construction.'  Until that project is completed (probably after he retires), you can find his portfolios on Flickr and Facebook and follow him on Instagram @brookebillickphotography.

Brittany Muldoon
Born and raised in Cincinnati, OH, Brittany Muldoon has had a passion for music from a very young age. She grew up going to concerts and is excited about the opportunities she's had to combine her love of music, writing, and photography in various ways over the past few years. In 2015, she joined the Pop Deflators team as a photojournalist and reviewer and has been covering shows ever since. After graduating from High Point University with a B.A. in Electronic Media, she moved overseas to Prague, CZ, where she continues to cover shows and immerse herself in the international music scene. She joined the Shutter 16 team in the spring of 2017 and is excited to keep sharing her passion for music and art with others.
Born​ ​and​ ​raised​ ​in​ ​Winston​ ​Salem​ ​NC,​ ​Cindy​ ​is​ ​a​ ​professional​ ​taco​ ​enthusiast​ ​and​ ​proud
Hufflepuff.​ ​Fangirl​ ​by​ ​day,​ ​and​ ​concert​ ​photojournalist​ ​by​ ​night,​ ​Cindy's​ ​photography​ ​career
started​ ​in​ ​2010​ ​when​ ​her​ ​fiance​ ​took​ ​her​ ​to​ ​her​ ​first​ ​local​ ​show.​ ​With​ ​a​ ​small​ ​Kodiak​ ​point​ ​and
shoot​ ​in​ ​hand,​ ​she​ ​quickly​ ​fell​ ​in​ ​love​ ​with​ ​the​ ​local​ ​music​ ​scene​ ​and​ ​concert​ ​photography.​ ​With
musical​ ​tastes​ ​varying​ ​from​ ​Acapella​ ​to​ ​Heavy​ ​Metal,​ ​there​ ​is​ ​no​ ​telling​ ​what​ ​you​ ​will​ ​hear
blaring​ ​from​ ​her​ ​headphones​ ​from​ ​day​ ​to​ ​day.​ ​When​ ​she​ ​is​ ​not​ ​spending​ ​time​ ​with​ ​her​ ​family,
friends,​ ​or​ ​furbabies,​ ​you​ ​can​ ​find​ ​Cindy​ ​with​ ​her​ ​nose​ ​buried​ ​in​ ​yet​ ​another​ ​book,​ ​binging​ ​Netflix
with​ ​her​ ​bearded​ ​better​ ​half,​ ​or​ ​out​ ​and​ ​about​ ​at​ ​various​ ​shows.
Instagram:​ ​cindythebooknerd
Flicker:​ ​cmcbridephotography
Cynthia Haithcock
Photojournalist
Born and raised in North Carolina, Cynthia Haithcock is a self-taught photographer who has always had a love for taking photos. Along with photography, music is also one of her greatest passions in life. She attended her first concert in her early teens, which soon after resulted in her spending most of her youth at numerous gigs. She quickly became addicted to documenting the music scene and began further pursuing digital imagery while shooting local rock and metal bands in various cities around NC. She later joined Shutter 16 in 2011 and has since had the opportunity to cover many talented acts, both local and national. From crowded bars, to sold out stadiums, few things make her happier than being behind the lens, especially when it involves combining and sharing her favorite forms of art.

Derek Baker
Photojournalist + PR Specialist
Diane Woodcheke
Photojournalist
Diane Woodcheke has had her eye on a camera viewfinder since she was very young. She specializes in Fine Art, Event and Concert Photography. She is also a writer of concert and album reviews, as well as contributing to blogs. For more information please visit her website at www.dwoodcheke.com
Frederick Gubitosi
Journalist
Brooklyn native, Frederick Gubitosi, is a musician, artist, songwriter, and music journalist. Alumnus of Pratt Institute and Brooklyn College, the former teacher writes as an insider to world of music and the humanities. In the '90s he had two solo painting exhibits in NYC and was involved in a performance art group which merged live music, improv theater and multimedia. In 1995 he participated in Philadelphia's first performance of John Zorn's "Cobra" as a musician. In 2005 he wrote, directed, and created the musical score for his comic play, "Love, the Happy Disease." He now participates in events for Brooklyn's Creators Collective making improvised music for modern dancers.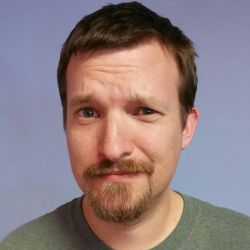 Jeff Hahne
Photojournalist
Josh Gooch
Photojournalist
Photographer Josh Gooch is a North Carolina native and a graduate of Appalachian State, Josh Gooch works in education, teaching graphic design at the community college level. Photography became a passion during his college career, and remained a constant addition to the ever-present soundtrack of life. Privileged to have turned an ear to hip-hop at a young age, after developing a love of music from '80s radio, Josh found that the revelation of rock music in high school was what led him to really devote serious amounts of attention to music. From there it was that first club show that sparked an addiction to live music and the exposure to various forms of it during the college years, cementing a love of passion and truth in music. Now, with the ability to combine the passions of photography and music, he hopes to continue to develop a creative voice that others appreciate.
Shoots with: Canon and Nikon
Website: www.goochua.com/
Shutter16 portfolio
Flickr: https://www.flickr.com/photos/goochua/

Keely Caulder
Photojournalist
Kevin McGee
Photojournalist
A North Carolina based photographer specializing in live music, Kevin never takes anything too seriously, least of all writing this bio. He believes art is the sole reason mankind developed civilization and music is best experienced live in small, dark bars of questionable cleanliness. His hobbies include sarcasm, being socially awkward, and referring to himself in third person. An unashamed geek, when not at a concert he can usually be found at the nearest sci-fi convention, playing video games, or trying to forge his Hogwart's letter.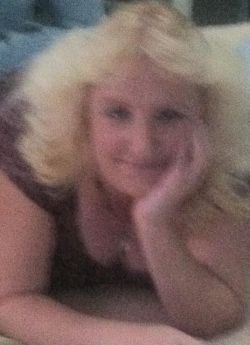 Kris Englehart
Photojournalist
Lee Ann Flynn  
Photojournalist & Writer
Music has always been the soundtrack of her life, starting with Stevie Wonder's 'Uptight,' and all genres have been alright from there!  A Chicagoland native who relocated to Milwaukee in 1996, and thrilled to be part of our Shutter 16 team! She's also a writer & photojournalist for Chicago's Premier 'Chicago Blues Guide,'  was inducted into the Chicago Blues Hall of Fame as a Master Photojournalist in 2015, and spent four years as a writer and photographer for the national print 'Big City Rhythm & Blues Magazine.' She loves to capture energy and passion of musicians in both her photography and writing.  Her spare time is spent enjoying her tremendous vinyl collection with her cats & Corgi's.
Email:  sweetmusicchica@gmail.com  
Facebook:  www.facebook.com/SweetMusicChica
"I would rather die of passion than of boredom." —Vincent van Gogh
Luke Jamroz couldn't agree more. His passions are many, so finding time for all of them is challenging even for Luke, who is perfectly willing to postpone sleep indefinitely. Photography, music – especially live music, adventure, travel, and sports are all necessary elements for him to live an inspired life. To enjoy them individually is great, but to combine them is even better. Luke dedicates time and attention to mastering the art of photography, but he does it while enjoying a great show or event or adventure. He has a natural eye for composition, a steady hand, and the patience of a kindergarten teacher – good qualities to have when shooting concerts and sporting events. In contrast to traditional "smile and be still" photography, Luke firmly believes "it's OK to move."

Megan Dunbar
Photojournalist
Nathan Leslie
Photographer, Recording
Nathan is avid concert goer who hails from Concord, NC. A graduate of UNC Charlotte, Nathan is an Audio/Visual Engineer in the Charlotte area. Nathan, who is a lifelong collector of concert recordings began recording shows himself in 2010. What began as a hobby has turned into a career for Nathan. With a passion for live music and reliving the concert experience, Nathan has taken on concert photography as well. You can find Nathan's work at www.nslmedia.net.
Patrick O'Heffernan
Journalist + Columnist
Patrick O'Heffernan, the Host of Music FridayLive! and a reviewer for several online publications is a former Professor of International Relations and Mass Media at Georgia Tech and host of the "Uplinks" media critique segment on Saturday All Things Considered on NPR. He holds a PhD in International Relations from M.I.T.and has been awarded an Emmy, four Addy's, and a Webby Honors, among other awards. He has published 5 books and ghost written others including the New York Times business best seller, "The E-Myth: Why Most Businesses Don't Work and What to Do About It".
Ricky Thigpen
Photographer
Richard Thigpen is a professional photographer, whose admiration for the combination of music and photography dating back over 20 years. His talent for music photography began when the opportunity made it possible to fuel the passion, whether it be at a local music venue or large outdoor music festival. Richard's music portfolio has well exceeded hundreds of live concert coverage, which has given him visibility and opportunities to shoot for national magazines and promoters. When not behind the camera, Richard stays busy with his wife and two children, and playing competitive table tennis. One of Richard's most memorable music moments is playing "Santa Monica" on guitar with his favorite band, "Everclear", in the summer of 2003 at Atlanta's Centennial Olympic Park.
Website:
http://www.rthigpenphoto.com
Facebook:
https://www.facebook.com/rthigpenphoto/
https://www.instagram.com/rmt3rd

Shumara Thomas
Photojournalist
Stacy Lukasavitz Steele is a professional copywriter, editor, and digital producer by day who has been masquerading as a music journalist by night since Lilith Fair the 1990s. She is a former publicist and veteran of the Detroit music scene, though today she resides in Milwaukee, Wisconsin, where she drinks too much coffee and is an obedient servant to two cats. She's known to like "the folky shit," but she'll take a good rock, country, or blues show any day of the week. There is no greater rock goddess in her eyes than Janis Joplin. Learn more about Stacy's background in music journalism at her music archive subdomain, and read her professional bio at her company website, Text on Fire Communications.  
Contributors:
Contributing Photographers/Journalist:  Benjamin Robson, Amanda Langley, Gianna Haley,Jaime Terry, Stephanie Cunningham. Alex Cason, Ryan Schmidt
Previous Contributors Photographers/Writers/Editors: Daniel Coston, Bobby Whitmire, Jen Vesp, Juan Ossa, Alesha Jenkins, Bob Forte, Troy Browder, Gary Carota, Martin Thomas,Steve Ransom, James Geiser,Jay Travino , Brian Twitty,Kate Scott Daly,Wade Benton, Yifat  Lee, Earl Mauldoun, Brian Morgan,  Max Styles, Kevin Daniels, Molly Shores, Rosie Shores, Mallory Biggerstaff, Devan Penegar, Jaime Terry, Kevin Robbins,Mues Productions,Amanda Tattermask,Jacqueline Parker, Erin-Tracy Blackwood, Jenny Lou Bement
Graphic Designer: Josh Gooch, Dianna Augustine